In early summer, the Jinshanling Great Wall is embraced by lush trees and blooming flowers. On May 25, under the guidance of forestry engineers, environmental protection volunteers from FAW TOYOTA Auto Sales Co., Ltd. planted spruce, golden elm and other ornamental trees around the Jinshanling Great Wall.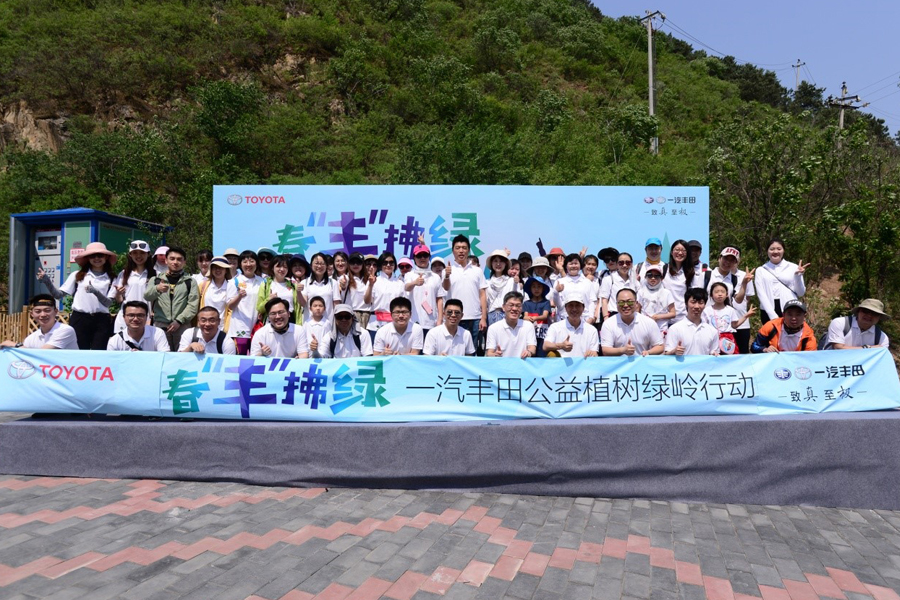 The Planting Activity was carried out by FAW TOYOTA in cooperation with the Scenic Area of the Jinshanling Great Wall and received warm response and support from management, trade unions and all employees of FAW TOYOTA. By attracting employees to participate, FAW TOYOTA has once again implemented the concept of environmental protection and public welfare that has been advocated for years.
Plant a tree for our green homeland
The Jinshanling Great Wall, located in Luanping County, Chengde City, Hebei Province, is known as "the most beautiful Great Wall" and is included in the "World Heritage List". When the participants drove from the noisy streets of Beijing to the scenic spots with trees and birds, they felt entering another world.
At the launch ceremony, Mr. Ohta, deputy general manager of FAW TOYOTA, said, "It is not only a tree planting activity, but also represents the environmental protection beliefs of FAW TOYOTA employees. The employees will plant saplings that represent FAW TOYOTA's determination of environmental protection, these trees will add more green in Jinshanling in the future"
On behalf of all employees, Mr. Ohta donated spruce, golden elm and other ornamental saplings to Meng Xiancong, the secretary of Jinshanling Voluntary Planting Base. Mr. Ohta said that protecting the environment and sharing green has become the pursuit of environmental protection and public welfare of FAW TOYOTA. The donation reflects the enterprise employees' yearning for building a green and beautiful home and hopes that the Jinshanling Great Wall will be more beautiful in the future.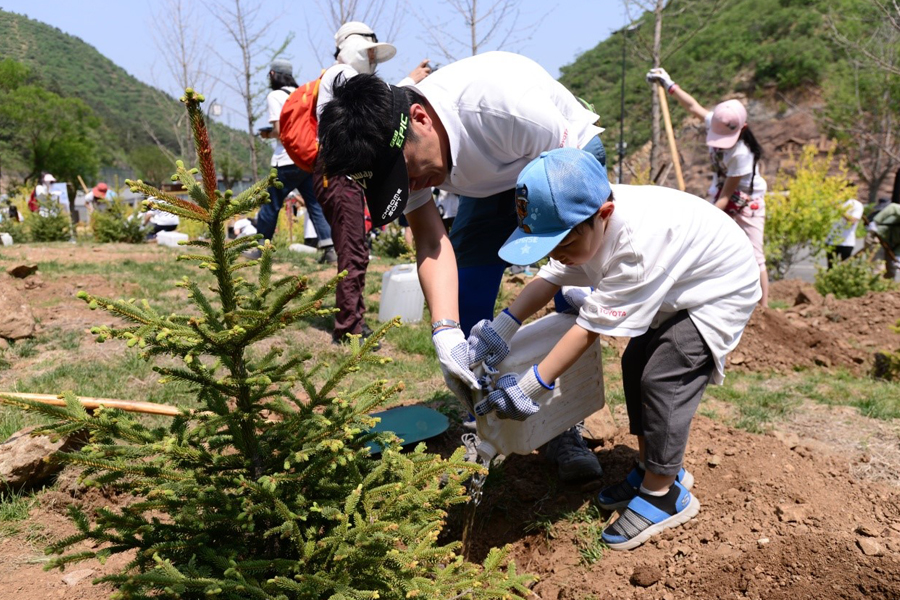 In the process of planting, forestry engineers guided the whole process on site and explained the knowledge of forest cultivation and the significance of planting to the participants. Every three people are in a group, responsible for planting seedlings, ridging, watering, and some planting seedlings. When everyone watched the saplings planted by themselves swaying with the wind and full of vitality, they felt proud of their contribution to environmental protection.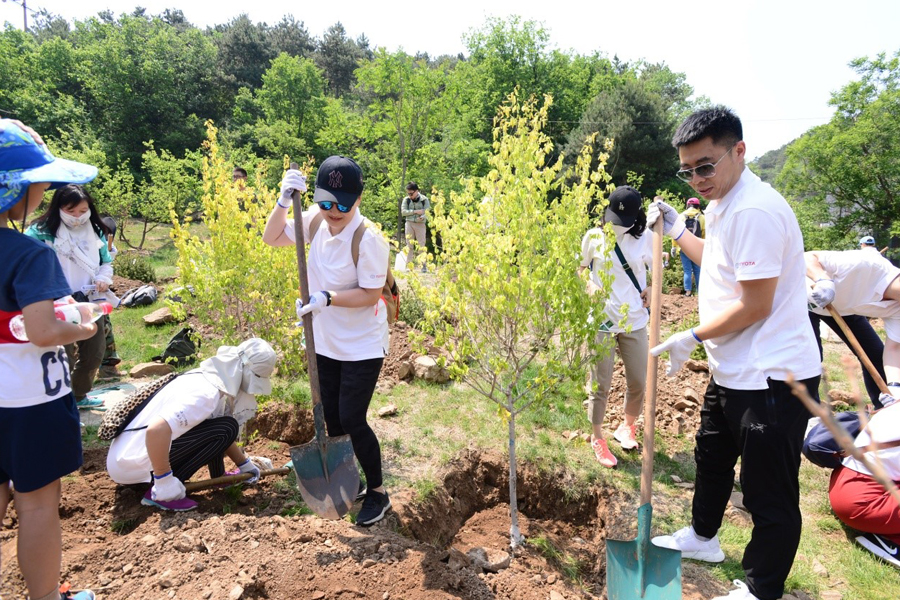 Starting from Products, Expanding Environmental Protection and Public Welfare
As an automobile enterprise, FAW TOYOTA Auto Sales Co., Ltd. is committed to providing consumers with high-quality products that are safe and environmentally friendly, and strongly supports environmental protection.
In the field of new energy vehicles, TOYOTA officially launched the COROLLA Plug-in Hybrid in March, which is TOYOTA's first new energy vehicle in China. It has the technical advantages of hybrid power and the high-quality genes of the corolla family, adopts plug-in hybrid power design, and does not need to rely on special charging piles. Under full fuel and electricity, the cruising mileage is nearly 1,000 kilometers, and the comprehensive oil consumption is extremely low, only 1.3L/100km, bringing a brand-new green travel experience to users.
In addition to providing environmentally friendly and high-quality products, FAW TOYOTA has continuously deepened its image as a "responsible corporate citizen" and continued to carry out various environmental protection and public welfare projects. Over the years, TOYOTA has not only sponsored and supported the "Green Space" environmental protection station for college students, but also organized environmental protection public welfare activities such as "Voluntary Planting", "Environmental Protection Practice for Colleges in Summer and Winter", "Senior Torch" and "Campus Environmental Week", so that environmental protection concepts can be rooted and developed among more and more young people.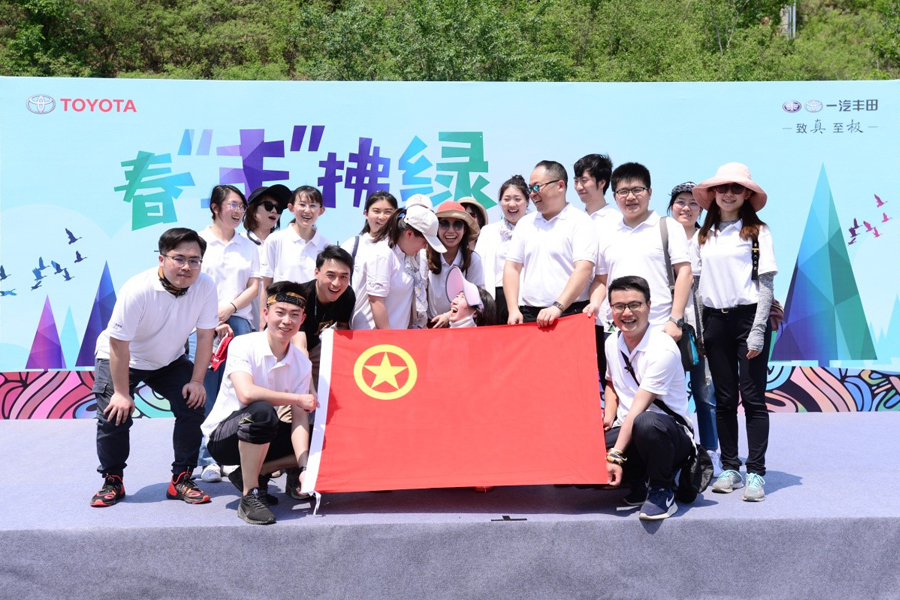 At present, FAW TOYOTA's "Voluntary Planting" has become a big business card in the public welfare activities of automobile enterprises. Since supporting "Green Space" to organize the first volunteer planting activities in 2004, FAW TOYOTA has organized 12 volunteer planting activities up to 2017, with a total of more than 2800 participants and more than 8000 trees planted.
Among them, it is worth mentioning that in 2018, the "Snow Leopard Guard Operation" jointly carried out by FAW TOYOTA and the Mountain and Water Conservation Center of Peking University once again aroused people's attention to the ecological problems of snow Leopard and eastern Tibet, made certain contributions to the local ecological research, and also opened a new chapter in the environmental protection and public welfare of FAW TOYOTA.
This time, FAW TOYOTA further stimulated employees' willingness to participate in environmental protection and public welfare and strengthened the corporate brand public welfare image by recruiting employees' volunteers to participate in the planting activity. In the future, FAW TOYOTA will continue to deepen its strategic thinking on environmental protection, strengthen the construction of environmental protection projects, and become more and more unswerving on the road of environmental protection and public welfare.