Mr. Jia Yuming has 20 years of advertising marketing and management experience. His work style is stable, efficient and meticulous. With unique insights on brand marketing, super innovation, learning ability and self-control, he has led ADAO win the favor of many customers with forward-looking market insight, accurate strategic planning and unique creative ideas. Mr. Jia Yuming and his team are devoting themselves to protecting the rise of more Chinese brands and pushing forward the development of Chinese advertising.
Jia Yuming, Chairman of ADAO
Today, the world is experiencing the industrial revolution and technological revolution which are broader and deeper. The Internet, big data, artificial intelligence and other modern information technologies have made continuous breakthroughs. The development of human society has reached another turning point. Like the industrial revolution, it will completely change human society and go down in history.
For China, every year with "8" has major events, perhaps for the world, every year with "9" meets with reforms. In 1859, Dickens wrote A Tale of Two Cities. The first sentence was regarded as a classic: "It was the best of times, it was the worst of times." 2019 can be said to be a new era. The emergence and popularization of 5G will make various industries face the first year of transformation, which is a huge impact and change for each industry.
"In recent years, Internet marketing, scenario marketing, AI intelligence and other kinds of new marketing have been sweeping, and most enterprises are facing such a problem: transformation or being transformed." When the author interviewed Mr. Jia Yuming, he said that ADAO is in such an era, if it cannot follow the general trend to realize transformation and subversion, it may lose its direction, and ADAO must "sail with the wind". In fact, since establishment, ADAO has relied on the sensitivity to the industry, the spirit of exploring the times, and its in-depth practice in the market, creating one classic case after another for brand owners, winning the attention of the audience and enthusiasm for participating in the experience, and increasing the volume of brand and sales again and again.
➤Marketing - Emphasis on Service and Choice
At the end of 1999, Mr. Jia Yuming resigned from his enviable job as a reporter of CCTV. In terms of career and hobbies, he has made the most important move and resolutely left his beloved media industry. As a young man with a background in fine arts, he chose the advertisement and creativity that he always yearned for. When he entered the advertising industry, he found that it was all-encompassing. When choosing the direction of the industry, he weighed the advantages and disadvantages. Mr. Jia believes that the advertising industry cannot do without people's food, clothing, housing and transportation. Therefore, ADAO has been closely connected with the "transportation"-automobile industry since its establishment in 1999. The development of the automobile market is an important part of China's economic development. ADAO, in combination with the actual situation of the enterprise, focused on the automobile industry, resolutely abandoned projects such as fast-moving consumer products and household appliances, and concentrated on the integrated marketing of the domestic automobile industry and the implementation of effective dissemination in customer and service projects. Providing effective solutions to customers' marketing is essential for ADAO's development.
ADAO has been deeply engaged in the automobile industry for nearly 20 years. After experiencing the baptism of wind and rain, it has always adhered to the service concept of "Our Quality, Your Trust". It has won the appreciation and trust of customers with its practical actions and professional competence.
ADAO has successively started cooperation with FAW Group, FAW Import & Export, CNHTC, FAW Toyota, FAW Audi, FAW Volkswagen, BAIC Weiwang, FAW Bestune and Lynk & Co, and has become a strategic partner. At the same time, ADAO has developed overseas markets for many years, working with some foreign customers. It has set up offices in Russia, South Africa, Iran, UAE and other countries, with rich resources for overseas media and public relations activities, and has achieved brilliant results overseas. It has also firmly established itself in the marketing and has achieved the distinction and characteristic against similar marketing organizations.
➤Transformation - Making Experiential Marketing More Effective
In an era of fragmentation and high interference, when everyone is discussing the issue of "how urgent is the transformation of Chinese enterprises?" decision makers and management are making predictive layout and strategic adjustments. Facing the crisis when many domestic enterprises are thinking about how to transform, Mr. Jia analyzed the types of transformation. He believes that there are three types of transformations.
The first type is primary transformation: some enterprises are transforming through low-price competition. This transformation is irrational and negative to the development of the industry.
The second category, intermediate transformation: many enterprises have begun to transform into technology + creative enterprises. However, this is a temporary transitional period, and the core of the advertising is high-quality contents.
The third type of transformation is relatively more pertinent. It is the transformation to experiential marketing.
This is also what ADAO is doing. Combining with its own characteristics, ADAO is changing to "experiential marketing + service". Mr. Jia said that every customer will have their own evaluation criteria when choosing an agency, but the first evaluation is to choose an agency that can keep pace with the changes of the times. Only such an agency can keep pace with the development of customers. ADAO's transformation is precisely because it understands this: in the long-term service process, it meets the needs and challenges of the times and customers, and thus wins customers' trust. Taking each customer as the closest friend and growing together is the win-win sustainable development.
American poet Maya Angelou said: "I've learned that people will forget what you said, people will forget what you did, but people will never forget how you made them feel." Then, focusing on numerous scenes, how can brands create wonderful experiences for consumers, or how can they establish friendly communication with consumers in the marketing? Mr. Jia Yuming said:"The context of advertising is to reach a consensus with consumers."
In 2019, ADAO will evolve into a multi-dimensional competitive environment and gradually change from a purely traditional advertising agency to a "three-driving mode", namely, traditional advertising, public relations activities and digital marketing. With the precise layout of the three major business development, we will create multi-dimensional competitiveness, and make experiential marketing as a transformation strategy.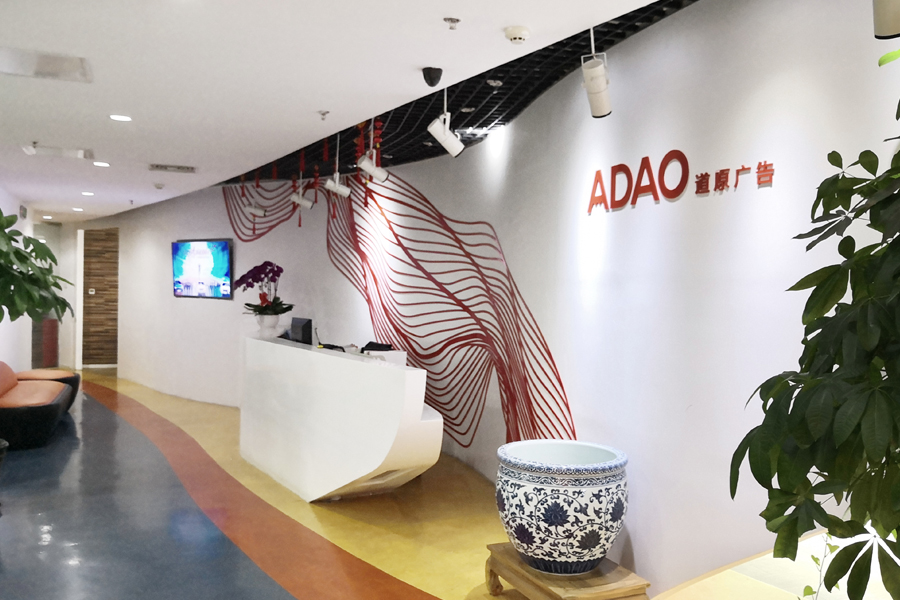 "Our Quality, Your Trust" is the foundation of ADAO.
➤Management- Unite as One to Overcome Difficulties
As we all know, in the advertising industry, an enterprise needs to cultivate innovative talents if it wants to develop and expand by leaps and bounds. For the managers of an enterprise, how to manage talents is beyond the business development, professional competence and resource contents. And cultivate a team with similar thoughts, ideals, beliefs, interests and actions. An excellent team and a high-quality platform are important steps to realize hard and soft power. ADAO is also very lucky because it has such a like-minded team. At the beginning of establishment, a group of passionate elites from the industry gathered. The team members came from well-known 4A enterprise and had unique opinions in their respective fields. They performed their respective duties and complemented each other. Under the leadership of Mr. Jia Yuming, ADAO has run all the way forward and gradually built up the most professional and comprehensive team in the field of integrated marketing in the automobile industry after numerous marketing battles.
Mr. Jia said that the method of talent management lies in trust, exertion, cultivation and growth. Trust is to believe in the professional competence and standard of each person, allowing professionals do professional things. Exertion is to let each colleague find their own strengths and weaknesses, learn from each other's strong points and make full use of his own strength. Cultivation means that the enterprise takes the organization of professional training with great efforts, and strives to ensure that the financial resources and time spent on training each year is enough. Growth means that the enterprise and its customers grow together through the outbreak of talents' ability. All of these have formed ADAO's soft power, which has become a strong support for brand to reassure customers and the enterprise itself to continue to flourish in the highly competitive advertising industry.
➤Mission- Send Support to People Who Are in Need
Public welfare comes from caring. Mr. Jia Yuming thinks: The more people who need us, the more we can feel our own value. Because he was nurtured by his family's culture since childhood, Mr. Jia Yuming is willing to help others and does not ask for returns. He told the author that the transmission of "love" is the tradition of our nation. It is very important for an enterprise with a sense of social responsibility and dedication.
Over the years, the ADAO team has always been committed to public welfare. Every year, it visits children living in Beijing's Sun Village for many times, donates daily necessities to these children, and cares about their study and growth. Every "ADAO people" feel the happiness of helping others from public welfare activities, and at the same time, it also enhances the value of work and life, making ADAO a more temperature-conscious enterprise.
In a sense, Mr. Jia Yuming's management is connected with his outlook on life and values are closely, including dedication and love for creativity, brand communication, emphasis on customer value and emphasis on service. In daily life, sending love and helping others is a very important part for him.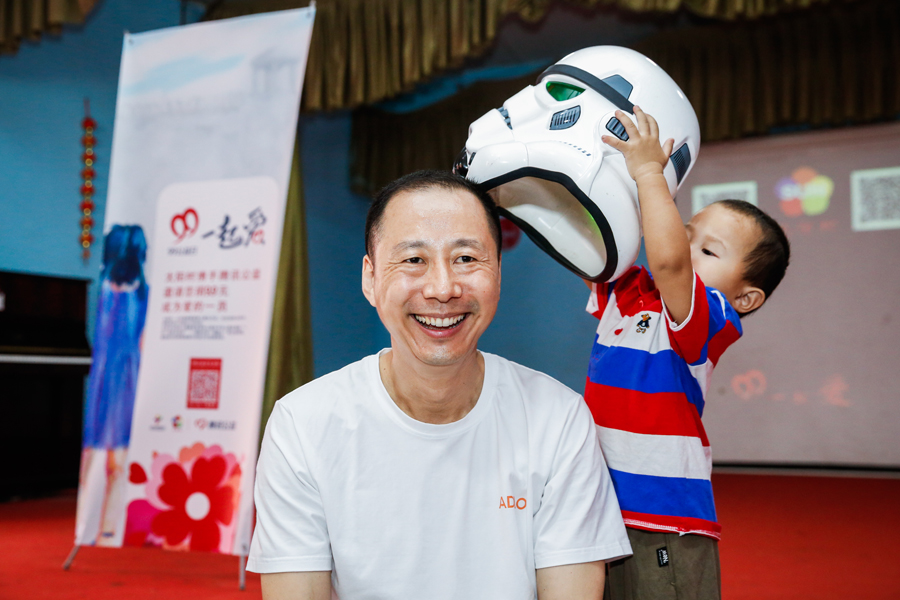 Mr. Jia Yuming and the team visited the children living in Beijing Sun Village.
➤Ending
Looking back on 20 years of advertising career from journalists to senior creative people, from management to the exploration of upgrading and transformation, Mr. Jia Yuming said with emotion: "life is a journey. The journey is in a hurry. In this process, it is not what you get, but what value you can bring to the society." In an era of change, faced with unknown challenges, ADAO has made concerted efforts from top to bottom and stood up bravely.
ADAO's business has been at the forefront of the industry for many years and is continuously growing. This is closely related to its excellent service and standard, as well as Mr. Jia Yuming's professional competence in marketing and brand communication and the huge benefits to customers.
"Our Quality, Your Trust" has formed a virtuous circle for ADAO's operation and development. Breakthroughs and effect in customer brand marketing are also destined to advance Mr. Jia Yuming and ADAO!